ABSURDISM QUOTES II
quotations about absurdism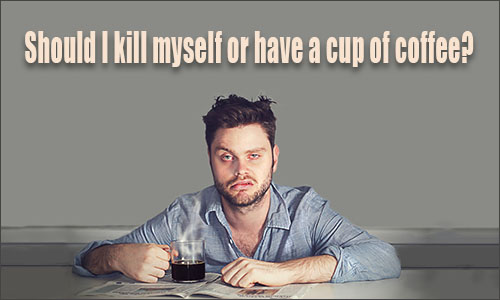 If at first an idea isn't absurd, there is no hope for it.
ANONYMOUS
1 likes
---
The Absurdist abandoned all hope of finding meaning in life and embraced a sort of nihilism. The Absurdist was convinced that everything was meaningless and absurd. The subjectivity of a Romantic was appealing to the Absurdist. However, even that implied that something was transcendent--a desire--and the Absurdist would have nothing to do with that.
JAMES STOBAUGH, World Literature
0 likes
---
Insofar as meaning is of importance to the absurdists, but they cannot find it, they have an openness to meaning. Thus their absurdism is not total. It is only reality oriented, which makes their absurdism relative. Consequently, it may be suggested that meaning can be created. One can choose to declare something to be valuable and precious. Thus absurdity has been superseded and meaning has been found in one's projection of what one chooses to be meaningful.
WILLIAM P. FROST, What Is the New Age?
0 likes
---
We live in a time which has created the art of the absurd. It is our art. It contains happenings, Pop art, camp, a theater of the absurd... Do we have the art because the absurd is the patina of waste...? Or are we face to face with a desperate or most rational effort from the deepest resources of the unconscious of us all to rescue civilization from the pit and plague of its bedding?
NORMAN MAILER, Cannibals and Christians
0 likes
---
Our escape from the absurd takes us down some strange paths. From motorcycle gangs to consumer culture, we are replete with escapist strategies -- but such solace affords only a temporary respite from the icy indifferent stare of the universe.
STEPHEN C. SMALL, "Brief Lives: Albert Camus", Philosophy Now, September 21, 2015
0 likes
---
At times people draw associations that, far from producing plausible interpretations, instead produce results that mystify or puzzle due to their novelty or absurdity. When results of this type are seen as threatening, others may react negatively with anger, outrage, or puzzlement. The incongruity that is brought into existence by the creative thinker is, in this case, too much to be intellectually tolerated.
JOHN MARMYSZ, Laughing at Nothing: Humor as a Response to Nihilism
0 likes
---
To work and create 'for nothing', to sculpture in clay, to know that one's creation has no future, to see one's work destroyed in a day while being aware that fundamentally this has no more importance than building for centuries -- this is the difficult wisdom that absurd thought sanctions. Performing these two tasks simultaneously, negating on one hand and magnifying on the other, is the way open to the absurd creator. He must give the void its colors.
ALBERT CAMUS, The Myth of Sisyphus and Other Essays
0 likes
---
Absurdism is about saying the unsayable, imagining the unimaginable, and still making sense.
JOSH GOLDING, Maverick Screenwriting
0 likes
---
It seemed a ruse that fear of death should be the sole motivation for living and, yet, to quell this fear made the prospect of living itself seem all the more absurd; to extend this further, the notion of living one's life for the purposes of pondering the absurdity of living was an even greater absurdity in and of itself, which thus, by reductio ad absurdum, rendered the fear of death a necessary function of life and any lack thereof, a trifling matter rooted in self-inflicted incoherence.
ASHIM SHANKER, Only the Deplorable
0 likes
---
The absurd is a category, the negative criterion, of the divine or of the relationship to the divine. When the believer has faith, the absurd is not the absurd -- faith transforms it, but in every weak moment it is again more or less absurd to him.
SOREN KIERKEGAARD, Journals of Soren Kierkegaard
0 likes
---
The absurd does not liberate; it binds. It does not authorize all actions. "Everything is permitted" does not mean that nothing is forbidden.
ALBERT CAMUS, "The Absurd Man", The Myth of Sisyphus
0 likes
---
They are young and well built, they have another thirty years ahead of them. So they don't hurry, they take their time, and they are quite right. Once they have been to bed together, they will have to find something else to conceal the enormous absurdity of their existence.
JEAN-PAUL SARTRE, Nausea
0 likes
---
There are no exact guidelines. There are probably no guidelines at all. The only thing I can recommend at this stage is a sense of humor, an ability to see things in their ridiculous and absurd dimensions, to laugh at others and at ourselves.
VACLAV HAVEL, address upon receiving the Open Society Prize awarded by Central European University, June 24, 1999
0 likes
---
I love you all and I deeply implore you to keep the lasagna flying. Please pardon my levity, I don't see how to take death seriously. It seems absurd.
ROBERT ANTON WILSON, final blog entry, "Do Not Go Gently Into That Good Night", January 6, 2007
0 likes
---
Nihilism consists in that path leading humankind toward extinction, while absurdism is that path that leads toward continued, lively exertion.
JOHN MARMYSZ, Laughing at Nothing: Humor as a Response to Nihilism
0 likes
---
Man stands face to face with the irrational. He feels within him his longing for happiness and for reason. The absurd is born of this confrontation between the human need and the unreasonable silence of the world.
ALBERT CAMUS, The Myth of Sisyphus and Other Essays
0 likes
---
Logically, the denial of all meaning, of all belief, must ultimately turn on and transcend itself. To cry "Absurd!" is just that--to cry out, to protest. Only utter silence would be consistent with absurdism.
RAYMOND L. NICHOLS, "Rebels, Beginners, and Buffoons: Politics in Action", Political Theory and Praxis: New Perspectives
0 likes
---
Whereas modern cynicism brought despair about the ability of the human species to realize laudable ideals, postmodern cynicism doesn't -- not because it's optimistic, but because it can't take ideals seriously in the first place. The prevailing attitude is Absurdism. A postmodern magazine may be irreverent, but not bitterly irreverent, for it's not purposefully irreverent; its aim is indiscriminate, because everyone is equally ridiculous. And anyway, there's no moral basis for passing judgment. Just sit back and enjoy the show.
ROBERT WRIGHT, The Moral Animal: Why We Are the Way We Are
0 likes
---
If I denounce the absurd, I transcend the absurd by the very fact of my denunciation. For by what right should I declare a thing to be absurd, unless I had before me the image--whether sharply or vaguely defined, no matter--of something that was not absurd?
EUGENE IONESCO, interview with George Lerminier, "Dialogue avec Ionesco", Ionesco
0 likes
---
Absurdism is fine on its own, but it's antithetical to parody, which thrives on specificity -- knowing a subject well enough to echo, invert, and riff on it -- whereas absurdism thrives on randomness.
ALISON HERMAN, "David Wain Fans (and Maybe No One Else) Will Love Steve and Nancy Carell's Cop-Show Parody 'Angie Tribeca'", Flavorwire, January 15, 2016
0 likes
---