WISDOM QUOTES IV
quotations about wisdom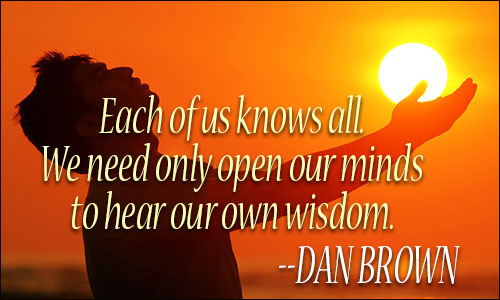 You know the difference between knowledge and wisdom? Knowledge is knowing tomato is a fruit. Wisdom is knowing you don't put tomato in a fruit salad.
GENE KESSELMAN, "The secrets of a 95-year-old man", New Jersey, February 5, 2016
3 likes
---
Of all the forms of wisdom, hindsight is by general consent the least merciful, the most unforgiving.
JOHN FLETCHER, attributed, Words of Wisdom
2 likes
---
A fool sees not the same tree that a wise man sees.
WILLIAM BLAKE, The Marriage of Heaven and Hell
2 likes
---
The most exquisite Folly is made of Wisdom spun too fine.
BENJAMIN FRANKLIN, Poor Richard's Almanack, 1746
2 likes
---
Wisdom is often counted folly by the unwise.
EDWARD COUNSEL, Maxims
2 likes
---
Cunning is seeing a hundred yards ahead--wisdom, fifty miles in advance.
CHARLES WILLIAM DAY, The Maxims, Experiences, and Observations of Agogos
2 likes
---
Be wise before the storm.
EDWARD COUNSEL, Maxims
2 likes
---
Wisdom is an endless tower. Who but One hath ever attained the summit?
EDWARD COUNSEL, Maxims
2 likes
---
Was not this ... what we spoke of as the great advantage of wisdom -- to know what is known and what is unknown to us?
PLATO, Charmides
2 likes
---
For such is the nature of men, that howsoever they may acknowledge many others to be more witty, or more eloquent, or more learned, yet they will hardly believe there be many so wise as themselves, for they see their own wit at hand, and other men's at a distance. But this proveth rather that men are in that point equal, than unequal. For there is not ordinarily a greater sign of the equal distribution of any thing than that every man is contented with his share.
THOMAS HOBBES, Leviathan
2 likes
---
When people grow wise in one direction, they are sure to make it easier for themselves to grow wise in other directions as well.
ISAAC ASIMOV, The Roving Mind
2 likes
---
The wisdom of the ignorant somewhat resembles the instinct of animals; it is diffused in but a very narrow sphere, but within the circle it acts with vigor, uniformity, and success.
OLIVER GOLDSMITH, The Citizen of the World; Or, Letters from a Chinese Philosopher
2 likes
---
A man's wisdom is his best friend; folly, his worst enemy.
SIR WILLIAM TEMPLE, The Life and Character of Sir William Temple
2 likes
---
On every thorn, delightful wisdom grows,
In every rill a sweet instruction flows.
EDWARD YOUNG, Love of Fame
2 likes
---
According to the Oxford English Dictionary, wisdom is the "Capacity of judging rightly in matters relating to life and conduct" and "sound judgement". My goodness, think if wisdom were a modern concept, regularly practiced, how much less shocking news we would have every day! If only celebrities didn't make such silly displays of themselves on late-night television shows; if tourists didn't insist on taking naked selfies on sacred mountains; if Justin Bieber could only behave like a sensible young man; if politicians were once again filled with serious integrity. Then our lives would not be spinning out of control with nonsense. What if Donald Trump had the wisdom to keep his mouth shut? What if scientists realize that just because they can create robot soldiers doesn't mean they should?
DOROTHY TURCOTTE, "The world in 2016 could use a little more wisdom", Niagara This Week, January 12, 2016
2 likes
---
Wisdom is first and foremost needed to discern when to speak, and when not to.
RENE CAMILLERI, "The wisdom not to speak", Malta Today, January 28, 2016
2 likes
---
Wisdom is the first and mother of all stocks for the market maker.
JIMANZE EGO-ALOWES, "Is the leadership question Nigeria's gold card?", The Sun, February 4, 2016
2 likes
---
Wisdom, in biblical terms, is not simply the accumulation of information. Rather, it encompasses the practical knowledge of how to regulate one's relationship with God, prudence in dealing with others, judiciousness in the handling of circumstances and skill or expertise in the application of knowledge to the diverse areas of life. Wisdom is such an important theme in Scripture that in the book of Proverbs the very voice of God is personified as wisdom, and Christ himself, in Paul's letters, is described as the one in whom are hid all treasures of wisdom and knowledge.
NOT ASHAMED, "Wisdom and government", Christian Concern, January 27, 2016
2 likes
---
Have you ever wondered exactly what wisdom is? Nowadays, most people don't think about it at all. It's a rather old-fashioned concept, yet one that we need in this modern age, probably more than ever.... After all, aren't our senators intended to be wise older people who have the good judgement to take a sober second look at legislation before it finally becomes law? Today's news makes us wonder how that concept has become lost in political hubris.
DOROTHY TURCOTTE, "The world in 2016 could use a little more wisdom", Niagara This Week, January 12, 2016
2 likes
---
Full wise is he that can himself know.
GEOFFREY CHAUCER, The Canterbury Tales
1 likes
---