WISDOM QUOTES IV
quotations about wisdom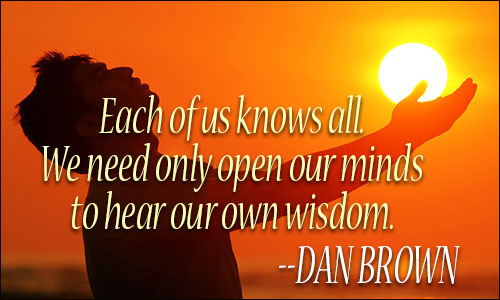 True wisdom is knowing what you don't know.
CONFUCIUS, Sayings of Confucius
3 likes
---
Wisdom never comes to those who believe they have nothing left to learn.
CHARLES DE LINT, "The Forest is Crying", The Ivory and the Horn
3 likes
---
It is not hoary hairs that bring wisdom; some have an old head on young shoulders.
MENANDER, attributed, Day's Collacon
3 likes
---
Wisdom and folly are equal before the face of Infinity, for Infinity knows them not.
LEONID ANDREYEV, "Lazarus"
2 likes
---
Of all the forms of wisdom, hindsight is by general consent the least merciful, the most unforgiving.
JOHN FLETCHER, attributed, Words of Wisdom
2 likes
---
The most exquisite Folly is made of Wisdom spun too fine.
BENJAMIN FRANKLIN, Poor Richard's Almanack, 1746
2 likes
---
Wisdom is often counted folly by the unwise.
EDWARD COUNSEL, Maxims
2 likes
---
Cunning is seeing a hundred yards ahead--wisdom, fifty miles in advance.
CHARLES WILLIAM DAY, The Maxims, Experiences, and Observations of Agogos
2 likes
---
Be wise before the storm.
EDWARD COUNSEL, Maxims
2 likes
---
Wisdom is an endless tower. Who but One hath ever attained the summit?
EDWARD COUNSEL, Maxims
2 likes
---
Was not this ... what we spoke of as the great advantage of wisdom -- to know what is known and what is unknown to us?
PLATO, Charmides
2 likes
---
Knowledge is learning something new every day. Wisdom is letting go of something every day.
ZEN PROVERB
2 likes
---
For such is the nature of men, that howsoever they may acknowledge many others to be more witty, or more eloquent, or more learned, yet they will hardly believe there be many so wise as themselves, for they see their own wit at hand, and other men's at a distance. But this proveth rather that men are in that point equal, than unequal. For there is not ordinarily a greater sign of the equal distribution of any thing than that every man is contented with his share.
THOMAS HOBBES, Leviathan
2 likes
---
The art of being wise is the art of knowing what to overlook.
WILLIAM JAMES, Principles of Psychology
2 likes
---
Wisdom is of God; folly is of men.
CHARLES HAMMOND, Light From the Spirit World
2 likes
---
When people grow wise in one direction, they are sure to make it easier for themselves to grow wise in other directions as well.
ISAAC ASIMOV, The Roving Mind
2 likes
---
The wisdom of the ignorant somewhat resembles the instinct of animals; it is diffused in but a very narrow sphere, but within the circle it acts with vigor, uniformity, and success.
OLIVER GOLDSMITH, The Citizen of the World; Or, Letters from a Chinese Philosopher
2 likes
---
A man's wisdom is his best friend; folly, his worst enemy.
SIR WILLIAM TEMPLE, The Life and Character of Sir William Temple
2 likes
---
On every thorn, delightful wisdom grows,
In every rill a sweet instruction flows.
EDWARD YOUNG, Love of Fame
2 likes
---
The disadvantage of becoming wise is that you realize how foolish you've been.
EVAN ESAR, 20,000 Quips & Quotes
2 likes
---