WINNING QUOTES
quotations about winning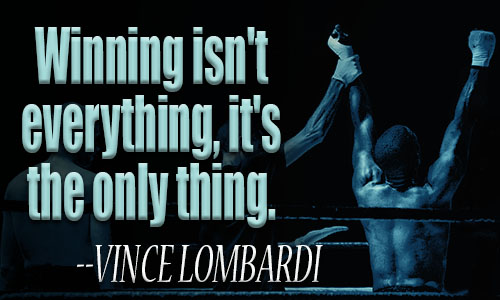 Winning isn't getting ahead of others. It's getting ahead of yourself.
ROGER STAUBACH, attributed, Wisdom Sayings for Our Troubling Times
8 likes
---
To be a great champion you must believe you are the best. If you're not, pretend you are.
MUHAMMAD ALI, attributed, A Season in Words: A Coach's Guide to Motivation from the Preseason to the Postseason
8 likes
---
Winning isn't everything, it's the only thing.
VINCE LOMBARDI, attributed, The Lombardi Rules: 25 Lessons from Vince Lombardi
6 likes
---
It is a silly game where nobody wins.
THOMAS FULLER, Gnomologia
4 likes
---
Never give up, never give in, and when the upper hand is ours, may we have the ability to handle the win with the dignity that we absorbed the loss.
DOUG WILLIAMS, attributed, "100 Most Inspirational Sports Quotes of All Times"
4 likes
---
If it doesn't matter who wins or loses, then why do they keep score?
VINCE LOMBARDI, attributed, Winning on Purpose
3 likes
---
The difference in winning and losing is most often ... not quitting.
WALT DISNEY, attributed, Motivational Quotes
3 likes
---
Perpetuating success or sliding into decline is the result of many intersecting forces that reinforce one another directly and indirectly. They are both cause and effect of winning or losing. Winning generates positive forces, losing generates negative forces.
ROSABETH MOSS KANTER, Confidence
3 likes
---
If you ask me how I want to be remembered, it is as a winner. You know what a winner is? A winner is somebody who has given his best effort, who has tried the hardest they possibly can, who has utilized every ounce of energy and strength within them to accomplish something. It doesn't mean that they accomplished it or failed, it means that they've given it their best. That's a winner.
WALTER PAYTON, Never Die Easy: The Autobiography of Walter Payton
3 likes
---
He who dares wins.
AMERICAN PROVERB
3 likes
---
Winning is great, but winning on opening night is even better.
JASON MARSHALL, "UTSA baseball wins home opener over UConn", Paisano Online, February 23, 2016
3 likes
---
You can't win every week.
CARYL CHURCHILL, Far Away
2 likes
---
Winners have to absorb losses.
ICE-T, Men's Health, December 2005
2 likes
---
Who overcomes
By force, hath overcome but half his foe.
JOHN MILTON, Paradise Lost
2 likes
---
One should always play fairly when one has the winning cards.
OSCAR WILDE, An Ideal Husband
2 likes
---
The media attention. It's only good when your winning, but when you're winning, it's great. When you're losing around here, you're a complete bum.
CARSON PALMER, interview, November 4, 2002
1 likes
---
Every time you win, it diminishes the fear a little bit. You never really cancel the fear of losing; you keep challenging it.
ARTHUR ASHE, attributed, 1000 Pocket Positives
1 likes
---
Winning isn't everything to me, but it's a close second. Losing isn't something that I can just brush off and fake a smile to hide my frustration. It's that will and determination that I hope will get me where I want to go.
DALE EARNHARDT, JR., Driver #8
1 likes
---
Those enjoying winning streaks thus win twofold. They win not only the game but also the right to greater self-determination. They become masters of their own fate. That feeling of efficacy, of being in charge of circumstances, is the essence of confidence. Winning once or twice is encouraging, but winning continuously is empowering.
ROSABETH MOSS KANTER, Confidence
1 likes
---
My core philosophy on winning and motivation is summed up by saying that you were born to win, but in order to be the winner you were born to be, you have to plan to win and prepare to win before you can expect to win.
ZIG ZIGLAR, Born to Win: Find Your Success Code
1 likes
---