UNEMPLOYMENT QUOTES
quotations about unemployment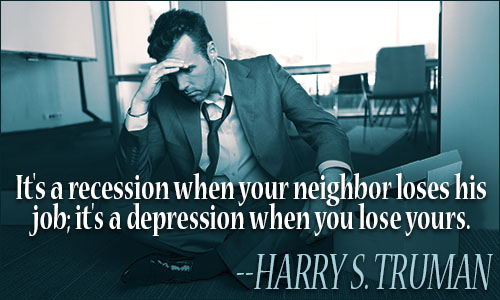 The cool thing about unemployment is every day is Saturday.
JAROD KINTZ, This Book Has No Title
141 likes
---
Unemployment is like a headache or a high temperature -- unpleasant and exhausting but not carrying in itself any explanation of its cause.
WILLIAM HENRY BEVERIDGE, Causes and Cures of Unemployment
83 likes
---
The production of too many useful things results in too many useless people.
KARL MARX, Economic and Philosophic Manuscripts
66 likes
---
Unemployment is an integral part of the normal capitalist system.
MICHAEL KALECKI, Selected Essays on the Dynamics of the Capitalist Economy 1933-1970
58 likes
---
When more and more people are thrown out of work, unemployment results.
CALVIN COOLIDGE, attributed, The Heretic's Handbook of Quotations
53 likes
---
Being unemployed is the true test of who you really are.
ERNIE J. ZELINSKI, The Joy of Not Working
42 likes
---
The best social program is a good job.
BILL CLINTON, remarks at a rally for Democratic candidates in Duluth, Minnesota, November 4, 1994
37 likes
---
Of all the aspects of social misery nothing is so heartbreaking as unemployment.
JANE ADDAMS, Twenty Years at Hull-House
33 likes
---
Unemployment diminishes people. Leisure enlarges them.
MASON COOLEY, City Aphorisms
29 likes
---
You take my life when you take the means whereby I live.
WILLIAM SHAKESPEARE, The Merchant of Venice
28 likes
---
The trouble with unemployment is that the minute you wake up in the morning, you're on the job.
SLAPPY WHITE, attributed, The Mammoth Book of Zingers, Quips, and One-Liners
28 likes
---
Unemployment is capitalism's way of getting you to plant a garden.
ORSON SCOTT CARD, Homebody
25 likes
---
A man willing to work, and unable to find work, is perhaps the saddest sight that fortune's inequality exhibits under this sun.
THOMAS CARLYLE, Chartism
22 likes
---
The escalator doesn't work, and you'd think they'd still be used as stairs, but in this economic depression, even the stairs are unemployed.
JAROD KINTZ, This Book Is Not For Sale
18 likes
---
I grew up in the '30s with an unemployed father. He didn't riot. He got on his bike and looked for work, and he kept looking 'til he found it.
NORMAN TEBBIT, attributed, Book of Business Quotations
16 likes
---
It's a recession when your neighbor loses his job; it's a depression when you lose yours.
HARRY S. TRUMAN, attributed, Phillips' Treasury of Humorous Quotations
15 likes
---
There are stories --legends, really -- of the "steady job." Old-timers gather graduates around the flickering light of a computer monitor and tell stories of how the company used to be, back when a job was for life, not just for the business cycle.... The graduates snicker. A steady job! They've never heard of such a thing.
MAX BARRY, Company
14 likes
---
Since employment is a key source of identity and an organizational frame for daily life in our cultures, unemployed individuals suffer psychological and social distress. It is well researched that unemployment is connected with negative health consequences. Unemployment leads to stress-related illnesses and a lowered self-esteem as a result of unmet psychological and social needs in such contexts as: time structure, social interaction, common goals, status, identity, recognition and also uncertainty about the future, financial instability, and loss of vocational identity.... That is why questions of coping become key issues.
ASMUND AAMAAS, WILLIAM J. F. KEENAN, CLEMENS SEDMAK & LINDA VAN DER ZIJDEN, Resilience and Unemployment
14 likes
---
You look at the jobless as a huge pile of scrap and you're looking for what can be recycled. That's good. That's your job. But what you don't realise is that this pile of scrap itself serves a purpose. I need my zeros ... they put fear in people; fear of crime and terrorism. They are a stark reminder to the stakeholders that what they despise today, they may end up joining tomorrow. It keeps them obedient. Remember that!
MARK CANTRELL, Citizen Zero
14 likes
---
In a dynamic, changing economy like ours, there will always be frictional unemployment. Many economists believe that the basic cause of frictional unemployment is imperfect or incomplete information, which prevents individuals from leaving one job and finding another instantly. Consider the situation where there are 1,000 job vacancies and 1,000 persons with the qualifications to fill the jobs. Will there be some unemployment? It is likely that there will be because not every one of the 1,000 job seekers will know where an available job is, nor will all employers give the job to the first applicant who knocks on the door (employers don't know if "better" applicants are around the corner). Matching qualified workers with jobs takes time.
ROGER A. ARNOLD, Economics
14 likes
---