RULES QUOTES
quotations about rules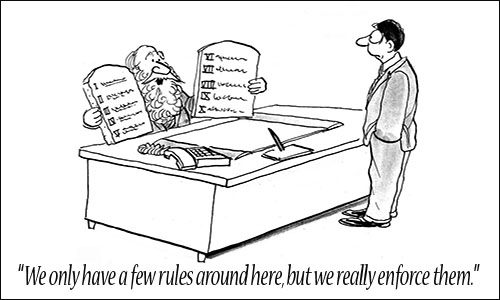 To observe the rules was to be good, and to be good was to be loved.
TOVA MIRVIS, "Divorced From My Husband, and My Faith", New York Times, February 19, 2014
5 likes
---
Hell, there are no rules here -- we're trying to accomplish something.
THOMAS EDISON, attributed, How to Think Like Einstein
4 likes
---
So these are the ropes,
The tricks of the trade,
The rules of the road.
You're one of the dopes
For whom they were made.
NAT KING COLE, "The Rules of the Road"
4 likes
---
Any fool can make a rule, and any fool will mind it.
HENRY DAVID THOREAU, journal, February 3, 1860
3 likes
---
You are remembered for the rules you break.
DOUGLAS MACARTHER, attributed, Taking Chances
2 likes
---
We've got to have rules and obey them. After all, we're not savages. We're English, and the English are best at everything.
WILLIAM GOLDING, Lord of the Flies
1 likes
---
Even in killing men, observe the rules of propriety.
CONFUCIUS, The Wisdom of Confucius
1 likes
---
If you obey all the rules, you miss all the fun.
KATHARINE HEPBURN, attributed, Katharine Hepburn Once Said...
1 likes
---
Rules are for old men who prefer to walk in the wheel ruts of history.
BRIAN HERBERT & KEVEN J. ANDERSON, Dune: House Corrino
1 likes
---
Rule A: Don't. Rule A1: Rule A doesn't exist. Rule A2: Do not discuss the existence or non-existence of Rules A, A1 or A2.
R. D. LAING, Knots
1 likes
---
Honestly, orthodoxy concerns me about as much as it concerns your average jackrabbit. I only follow rules that take me where I want to go. If there aren't any rules, I make up my own (and follow them strictly).
URSULA K. LE GUIN, interview, Electric Lit, August 7, 2014
1 likes
---
By all means break the rules, and break them beautifully, deliberately and well. That is one of the ends for which they exist.
ROBERT BRINGHURST, The Elements of Typographic Style
1 likes
---
It is the beginning of wisdom when you recognize that the best you can do is choose which rules you want to live by, and it's persistent and aggravated imbecility to pretend you can live without any.
WALLACE STEGNER, All the Little Live Things
1 likes
---
It is the nature of man to build the most complicated cage of rules and regulations in which to trap himself, and then, with equal ingenuity and zest, to bend his brain to the problem of wriggling triumphantly out again.
BRIDGET ANN HENISCH, Fast and Feast: Food in Medieval Society
1 likes
---
The greatest crimes in the world are not committed by people breaking the rules but by people following the rules. It's people who follow orders that drop bombs and massacre villages.
BANKSY, Wall and Piece
1 likes
---
It is a great mistake to follow the exception, instead of the rule; we must show ourselves as strict, and opposed to the exception; yet, as there are exceptions to every rule, we must decide with strictness, though with justice.
PASCAL, attributed, Day's Collacon
1 likes
---
Rules help us live our lives when we lose the will to do it on our own.
YVONNE WOON, Dead Beautiful
1 likes
---
Students who come eager to learn the rules and who do learn them, and who learn nothing more, will take away the shell and not the substance. We have discovered that rules alone, mere forms of words, are worthless.
KARL N. LLEWELLYN, The Bramble Bush: On Our Law and Its Study
1 likes
---
But the certainty of a rule is bought at a price. By excluding considerations potentially relevant to its purpose ... the rule may generate a misfit between purpose and application.
STEPHEN L. CARTER, "Legal Procedure Needs a Dose of Common Sense", Bloomberg, July 13, 2017
1 likes
---
Necessity hath no law. Feigned necessities, imaginary necessities ... are the greatest cozenage that men can put upon the Providence of God, and make pretenses to break known rules by.
OLIVER CROMWELL, speech to Parliament, September 12, 1654
0 likes
---