POETRY QUOTES
quotations about poetry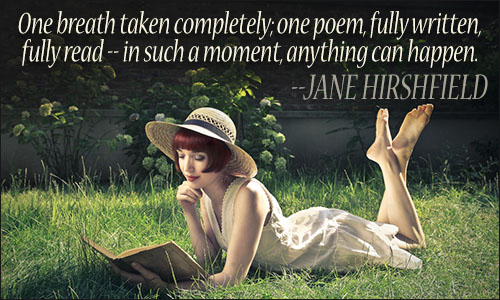 Poetry is an orphan of silence.
CHARLES SIMIC, attributed, Stealing Glimpses: Of Poetry, Poets, and Things in Between
2 likes
---
There is the view that poetry should improve your life. I think people confuse it with the Salvation Army.
JOHN ASHBERY, International Herald Tribune, October 2, 1989
2 likes
---
Poetry will wither on the vine if you don't regularly come back to the simplest fundamentals of the poem: rhythm, rhyme, simple subjects--love, death, war.
JAMES FENTON, The New Yorker, July 25, 1994
2 likes
---
Everybody can write poetry, just like everybody knows how to make love.
GAO XINGJIAN, The Other Shore
1 likes
---
And the verse falls to the soul like dew to the pasture.
PABLO NERUDA, "Tonight I Can Write"
1 likes
---
I can't think of a case where poems changed the world, but what they do is they change people's understanding of what's going on in the world.
SEAMUS HEANEY, This Week, April 15, 2004
1 likes
---
Nobody, I think, ought to read poetry, or look at pictures or statues, who cannot find a great deal more in them than the poet or artist has actually expressed.
NATHANIEL HAWTHORNE, The Marble Faun
1 likes
---
There is no true poet in whom fancy is not close akin to faith.
JOHN C. BAILEY, The Claims of French Poetry
1 likes
---
Whenever I read a poem that moves me, I know I'm not alone in the world. I feel a connection to the person who wrote it, knowing that he or she has gone through something similar to what I've experienced, or felt something like what I have felt. And their poem gives me hope and courage, because I know that they survived, that their life force was strong enough to turn experience into words and shape it into meaning and then bring it toward me to share.
GREGORY ORR, All Things Considered, February 20, 2006
0 likes
---
There has never been a great poet who wasn't also a great reader of poetry.
EDWARD HIRSCH, interview, 2007
0 likes
---
Poetry cannot afford to lose its fundamentally self-delighting inventiveness, its joy in being a process of language as well as a representation of things in the world.
SEAMUS HEANEY, The Redress of Poetry
0 likes
---
The difference between genuine poetry and the poetry of Dryden, Pope, and all their school, is briefly this: their poetry is conceived and composed in their wits, genuine poetry is conceived and composed in the soul.
MATTHEW ARNOLD, Essays in Criticism, Second Series
0 likes
---
Poetry is the impish attempt to paint the color of the wind.
MAXWELL BODENHEIM, attributed, An Introduction to Poetry and Criticism
0 likes
---
The white light of truth, in traversing the many sided transparent soul of the poet, is refracted into iris-hued poetry.
HERBERT SPENCER, The Philosophy of Style
0 likes
---
Poetry is a way of taking life by the throat.
ROBERT FROST, attributed, Robert Frost: The Trial by Existence
0 likes
---
A poet's work is to name the unnameable, to point at frauds, to take sides, start arguments, shape the world, and stop it going to sleep.
SALMAN RUSHDIE, London Independent, February 18, 1989
0 likes
---
A poet does not work by square or line.
WILLIAM COWPER, Conversation
0 likes
---
Debate doesn't really change things. It gets you bogged in deeper. If you can address or reopen the subject with something new, something from a different angle, then there is some hope.... That's something poetry can do for you, it can entrance you for a moment above the pool of your own consciousness and your own possibilities.
SEAMUS HEANEY, Paris Review, Fall 1997
0 likes
---
Men of real talents in Arms have commonly approved themselves patrons of the liberal arts and friends to the poets, of their own as well as former times. In some instances by acting reciprocally, heroes have made poets, and poets heroes.
GEORGE WASHINGTON, letter to the Marquis de Lafayette, May 28, 1788
0 likes
---
Poetry never loses its appeal. Sometimes its audience wanes and sometimes it swells like a wave. But the essential mystery of being human is always going to engage and compel us. We're involved in a mystery. Poetry uses words to put us in touch with that mystery. We're always going to need it.
EDWARD HIRSCH, interview, 2007
0 likes
---