PLEASURE QUOTES
quotations about pleasure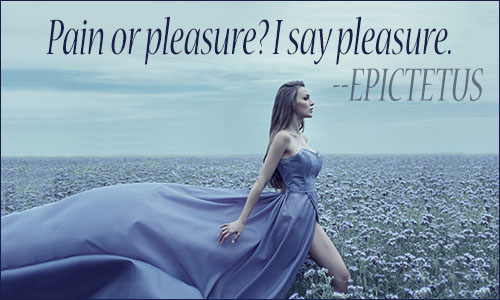 Why not seize pleasure at once? How often is happiness destroyed by preparation, foolish preparation!
JANE AUSTEN, Emma
4 likes
---
Variety is the soul of pleasure.
APHRA BEHN, The Rover
2 likes
---
Pleasure and pain seem to have been accidentally cast in the same mold.
LEWIS F. KORNS, Thoughts
2 likes
---
Man's sole duty is to produce as much pleasure as possible.
SUSAN HUBBARD, The Society of S
2 likes
---
One half of the world cannot understand the pleasures of the other.
JANE AUSTEN, Emma
1 likes
---
But pleasures are like poppies spread--
You seize the flow'r, its bloom is shed;
Or like the snow falls in the river--
A moment white -- then melts for ever.
ROBERT BURNS, Tam o' Shanter
1 likes
---
Pleasure's a Moth, that sleeps by day
And dances by false glare at night;
But Joy's a Butterfly, that loves
To spread its wings in Nature's light.
WILLIAM HENRY DAVIES, Joy and Pleasure
1 likes
---
As a grim skull lies covered beneath the fairest face; so does an abyss of torment lie beneath the surface of the glittering sea of sensual pleasure and dissipation.
WILLIAM SCOTT DOWNEY, Proverbs
1 likes
---
Every act by which pleasure is reaped, without any result of pain, is pure gain to happiness; every act whose results of pain are less than the results of pleasure, is good, to the extent of the balance in favour of happiness.
JEREMY BENTHAM, Deontology
1 likes
---
The highest pleasure is only consciousness of freedom from the deepest pain.
JAMES PARTON, Life and Times of Benjamin Franklin
1 likes
---
If pleasure is what you want, do not suppress the desire. Seek it intelligently.
HUSTON SMITH, The Illustrated World's Religions
1 likes
---
The poor have very few hours in which to enjoy themselves; they must take their pleasure raw; they haven't the time to cook it.
WILLIAM BUTLER YEATS, Where There Is Nothing
0 likes
---
Pleasure's a sin, and sometimes sin's a pleasure.
LORD BYRON, Don Juan
0 likes
---
The highway of pleasure is crossed by many toll-gates.
LEWIS F. KORNS, Thoughts
0 likes
---
Pleasure is Nature's test, her sign of approval. When man is happy, he is in harmony with himself and his environment.
OSCAR WILDE, The Soul of Man Under Socialism
0 likes
---
Passive pleasure is no pleasure at all.
ARTHUR ADAMOV, Ping Pong
0 likes
---
Every nerve that can thrill with pleasure, can also agonize with pain.
HORACE MANN, A Few Thoughts for a Young Man
0 likes
---
Pleasure is something you can easily lose the knack of, if you allow yourself to get out of practice.
K. J. PARKER, Devices and Desires
0 likes
---
Pleasure is always derived from something outside you, whereas joy arises from within.
ECKHART TOLLE, The Power of Now
0 likes
---
Pleasure is labour too, and tires as much.
WILLIAM COWPER, Hope
0 likes
---