PLAYWRITING QUOTES
quotations about playwriting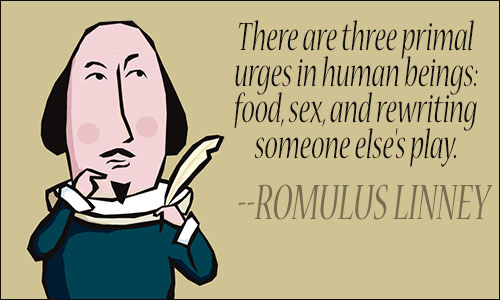 If I write a new play, my point of view may be profoundly modified. I may be obliged to contradict myself and I may no longer know whether I still think what I think.
EUGENE IONESCO, Notes and Counter Notes
3 likes
---
One had the right to write because other people needed news of the inner world, and if they went too long without such news they would go mad with the chaos of their lives.
ARTHUR MILLER, "The Shadows of the Gods"
3 likes
---
Do you know what a playwright is? A playwright is someone who lets his guts hang out on the stage.
EDWARD ALBEE, Shoptalk: Conversations About Theater and Film with Twelve Writers, One Producer--and Tennessee Williams' Mother
2 likes
---
I think that as a playwright, if I detail that environment, then I'm taking away something from them [designers]. I'm taking away their creativity and their ability to have input themselves, not just to follow what the playwright has written. So I do a minimum set description and let the designers create within that.
AUGUST WILSON, African American Review, Spring, 2001
1 likes
---
I can't expose a human weakness on the stage unless I know it through having it myself.
TENNESSEE WILLIAMS, foreword, Sweet Bird of Youth
1 likes
---
Writing has ... been to me like a bath from which I have risen feeling cleaner, healthier, and freer.
HENRIK IBSEN, Speeches and New Letters
1 likes
---
He who would write for the theatre must not despise the crowd.
CLAYTON HAMILTON, Theory of the Theatre
1 likes
---
Well, one of the things we're supposed to be able to do as playwrights is write from a place of empathy, get into another character's shoes and experience things both mundane and tragic. And people don't -- like me right now -- people aren't necessarily the most eloquent when trying to express their emotions. I guess I feel as a playwright that those people deserve a voice, too, a voice that isn't so articulate that they themselves can no longer identify with it.
TRACY LETTS, "Tracy Letts Is Still Haunted by His Past", New York Times Magazine, March 21, 2014
1 likes
---
Everything influences playwrights. A playwright who isn't influenced is never of any use. He's the litmus paper of the arts. He's got to be, because if he isn't working on the same wave length as the audience, no one would know what in hell he was talking about.
ARTHUR MILLER, Conversations with Arthur Miller
1 likes
---
Playwriting is an art and a craft while you're doing it, but once you've put a cover on that draft, it becomes a business.
RICHARD TOSCAN, Playwriting Seminars 2.0: A Handbook on the Art and Craft of Dramatic Writing
1 likes
---
Actors are all about entrances, but writers are all about exits.
VINCENT H. O'NEILL, Death Troupe
1 likes
---
The art of the dramatist is very like the art of the architect. A plot has to be built up just as a house is built--story after story; and no edifice has any chance of standing unless it has a broad foundation and a solid frame.
BRANDER MATTHEWS, The Principles of Playmaking
0 likes
---
It is Mystery -- the mystery any one man or woman can feel but not understand as the meaning of any event -- or accident -- in any life on earth ... [that] I want to realize in the theatre. The solution, if there ever be any, will probably have to be produced in a test tube and turn out to be discouragingly undramatic.
EUGENE O'NEILL, attributed, British and American Plays, 1830-1945
0 likes
---
Before I write down one word, I have to have the character in my mind through and through. I must penetrate into the last wrinkle of his soul.
HENRIK IBSEN, attributed, Four Major Plays
0 likes
---
If you string together a set of speeches expressive of character, and well finished in point and diction and thought, you will not produce the essential tragic effect nearly so well as with a play which, however deficient in these respects, yet has a plot and artistically constructed incidents.
ARISTOTLE, Poetics
0 likes
---
Try to be original in your play and as clever as possible; but don't be afraid to show yourself foolish; we must have freedom of thinking, and only he is an emancipated thinker who is not afraid to write foolish things.
ANTON CHEKHOV, letter to A. P. Chekhov, April 11, 1889
0 likes
---
Dramatic action, therefore, is not with a view to the representation of character: character comes in as subsidiary to the actions.
ARISTOTLE, Poetics
0 likes
---
The poet cannot invent new words every time, of course. He uses the words of the tribe. But the handling of the word, the accent, a new articulation, renew them.
EUGENE IONESCO, Present Past / Past Present
0 likes
---
Get into the scene late, get out of the scene early.
DAVID MAMET, The Paris Review, spring 1997
0 likes
---
I do not believe that any work of art can help but be diminished by its adherence at any cost to a political program ... and not for any other reason than that there is no political program -- any more than there is a theory of tragedy -- which can encompass the complexities of real life.
ARTHUR MILLER, introduction, Collected Plays
0 likes
---