PERSISTENCE QUOTES
quotations about persistence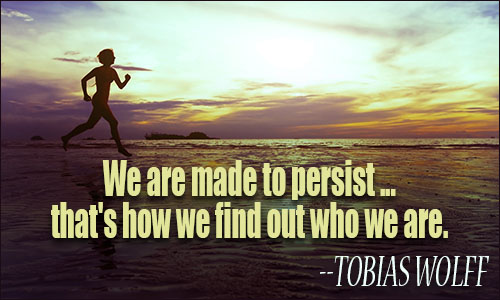 Making your mark on the world is hard. If it were easy, everybody would do it. But it's not. It takes patience, it takes commitment, and it comes with plenty of failure along the way. The real test is not whether you avoid this failure, because you won't. it's whether you let it harden or shame you into inaction, or whether you learn from it; whether you choose to persevere.
BARACK OBAMA, speech, July 12, 2006
2 likes
---
The key of persistence will open up any door that has been closed by resistance.
JOHN DI LEMME, 177 Motivational Success Quotes to Live the Championship Life
2 likes
---
Nothing can be done except little by little.
CHARLES BAUDELAIRE, My Heart Laid Bare and Other Prose Writings
2 likes
---
A river cuts through rock, not because of its power, but because of its persistence.
ANONYMOUS
2 likes
---
I think a hero is an ordinary individual who finds the strength to persevere and endure in spite of overwhelming obstacles.
CHRISTOPHER REEVE, Still Me
2 likes
---
When you persist regardless of the emotional state, you are not only building a character strong enough to give assurance of success in the future but also training the mind to associate persistence with the feeling of satisfaction whenever the goal is accomplished.
COLIN MTITA, Your Inner Child Is Calling
2 likes
---
Nothing in the world can take the place of persistence. Talent will not; nothing is more common than unsuccessful men with talent. Genius will not; unrewarded genius is almost a proverb. Education will not; the world is full of educated derelicts. Persistence and determination are omnipotent. The slogan "press on" has solved and always will solve the problems of the human race.
CALVIN COOLIDGE, attributed in program at Coolidge memorial service, 1933
1 likes
---
There are very few cases of overnight success. Most success cases--including rock bands who seem to explode out of nowhere--involve longer term persistence and commitment to an interest.
PATRICK COMBS, Major in Success
1 likes
---
Diamonds are only chunks of coal,
That stuck to their jobs, you see.
MINNIE RICHARD SMITH, "Stick to Your Job", Poor Richard's Anthology of Thoughts on Success
1 likes
---
Never give in, never give in, never, never, never, never--in nothing, great or small, large or petty--never give in except to convictions of honour and good sense.
WINSTON CHURCHILL, speech at Harrow School, Harrow, England, October 29, 1941
1 likes
---
By perseverance the snail reached the ark.
CHARLES SPURGEON, The Salt-cellars: Being a Collection of Proverbs, Together with Homely Notes Thereon
1 likes
---
The truth is that persistence equals success. What I mean by this is that if we look at those who are the most successful in the world, persistence is the common denominator.
JUSTIN SACHS, The Power of Persistence
1 likes
---
The difference between perseverance and obstinacy is that one comes from a strong will, and the other from a strong won't.
HENRY WARD BEECHER, attributed, Proverbial Wisdom: Proverbs, Maxims and Ethical Sentences, of Interest to All Classes of Men
1 likes
---
Persistence is a fruit of the spirit. The spirit that enables one to cross from patience to longsuffering without knowing.
JOYCELYN DANKWA, Persistence Has Great Gain
1 likes
---
When resistance closes the door against you, remember that persistence holds the key.
ISRAELMORE AYIVOR, Daily Drive 365
1 likes
---
More and more I have come to admire resilience.
Not the simple resistance of a pillow, whose foam
returns over and over to the same shape, but the sinuous
tenacity of a tree: finding the light newly blocked on one side,
it turns in another. A blind intelligence, true.
But out of such persistence arose turtles, rivers,
mitochondria, figs--all this resinous, unretractable earth.
JANE HIRSHFIELD, "Optimism"
1 likes
---
We are made to persist, to complete the whole tour. That's how we find out who we are.
TOBIAS WOLFF, In Pharaoh's Army
0 likes
---
Little strokes fell great oaks.
BENJAMIN FRANKLIN, Poor Richard's Almanack
0 likes
---
Thankfully, persistence is a great substitute for talent.
STEVE MARTIN, Born Standing Up: A Comic's Life
0 likes
---
A little more persistence, a little more effort, and what seemed hopeless failure may turn to glorious success.
ELBERT HUBBARD, attributed, The Search for the North Pole
0 likes
---