PATIENCE QUOTES
quotations about patience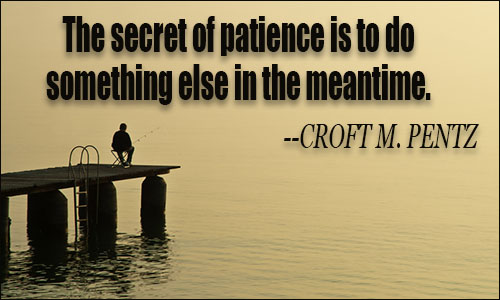 Patience is woven into the web of the universe because this universe reflects--in dim and fractured ways--the divine patience of its creator.
SAMUEL WELLS, "Good Earth", Christian Ethics
8 likes
---
Patience is no small, feel-good personal quality. It is at the heart of diplomacy and civility, lawfulness and civil order. Without it, people can't work together and society can't function at all. With it, we create the possibility of peace between people and between nations.
MARY JANE RYAN, The Power of Patience
4 likes
---
Unless patience is founded on hope, it stagnates.
EDWARD COUNSEL, Maxims
4 likes
---
Endurance is the crowning quality,
And patience all the passion of great hearts.
JAMES RUSSELL LOWELL, Columbus
3 likes
---
Patience is the art of hoping.
LUC DE VAUVENARGUES, Reflections and Maxims
3 likes
---
Patience is the ballast of the soul, that will keep it from rolling and tumbling in the greatest storms: and he, that will venture out without this to make him sail even and steady will certainly make shipwreck, and drown himself; first, in the cares and sorrows of this world; and, then, in perdition.
EZEKIEL HOPKINS, Death Disarm'd of Its Sting
3 likes
---
Patience, my lord. Why, 'tis the soul of peace.
Of all the virtues 'tis near'st kin to heaven.
It makes men look like gods; the best of men
That e'er wore earth about him was a sufferer,
A soft, meek, patient, humble, tranquil spirit,
The first true gentleman that ever breath'd.
THOMAS DEKKER & THOMAS MIDDLETON, The Honest Whore
3 likes
---
There is no such thing as preaching patience into people, unless the sermon is so long that they have to practice it while they hear. No man can learn patience except by going out into the hurlyburly world, and taking life just as it blows. Patience is but lying to, and riding out the gale.
HENRY WARD BEECHER, Life Thoughts
2 likes
---
Patience is a virile virtue; it does not mean lying down under affliction, but standing up under it and marching on.
WALTER LOWRIE, The Church Standard, December 8, 1906
2 likes
---
Patience is the homely background on which most of the brilliant achievements are woven in beautiful harmony.
ALLYN KING FOSTER, Cartoons in Character
2 likes
---
Patience is self-mastery and the man who is master of himself carves out his career. The way may be steep and the outlook bleak but patience will ultimately lay the world at his feet.
ALLYN KING FOSTER, Cartoons in Character
2 likes
---
Patience and diligence, like faith, remove mountains.
WILLIAM PENN, Some Fruits of Solitude in Reflections and Maxims
2 likes
---
An impatient man is hurried along by his wild and furious desires into an abyss of miseries, the more extensive his power is, the more fatal is his Impatience to him, he will wait for nothing, he will not give himself any time to take measures, he forces all things to satisfy his wishes, he breaks the boughs to gather the fruit before it is ripe, he breaks down the gates rather than wait till they are opened, he will needs reap when the wise husbandman is sowing.
WELLINS CALCOTT, Thoughts Moral and Divine
2 likes
---
It is far better to endure patiently a smart which nobody feels but yourself, than to commit a hasty action whose evil consequences will extend to all connected with you.
CHARLOTTE BRONTË, Jane Eyre
2 likes
---
Patience is moral elasticity.
AUSTIN O'MALLEY, Keystones of Thought
1 likes
---
An invulnerable armor is patience.
GAUTAMA BUDDHA, The Gospel of Buddha
1 likes
---
Patience is the analogue of God's serenity.
AUSTIN O'MALLEY, Keystones of Thought
1 likes
---
Patience will achieve more than force.
EDMUND BURKE, Reflections on the Revolution in France
1 likes
---
It is very strange that the years teach us patience -- that the shorter our time, the greater our capacity for waiting.
ELIZABETH TAYLOR, A Wreath of Roses
1 likes
---
I beg you, to have patience with everything unresolved in your heart and to try to love the questions themselves as if they were locked rooms or books written in a very foreign language. Don't search for the answers, which could not be given to you now, because you would not be able to live them. And the point is to live everything. Live the questions now. Perhaps then, someday far in the future, you will gradually, without even noticing it, live your way into the answer.
RAINER MARIA RILKE, Letters to a Young Poet
1 likes
---