PAST QUOTES
quotations about the past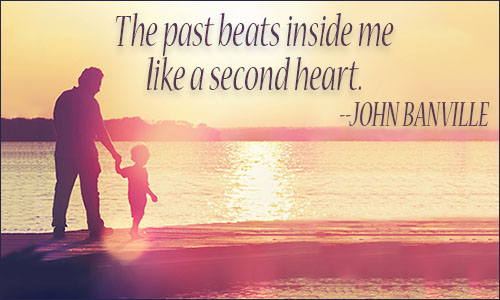 The past is never dead. It's not even past.
WILLIAM FAULKNER, Requiem for a Nun
6 likes
---
The past beats inside me like a second heart.
JOHN BANVILLE, The Sea
5 likes
---
The past gives you an identity and the future holds the promise of salvation, of fulfillment in whatever form. Both are illusions.
ECKHART TOLLE, The Power of Now
4 likes
---
The past lies like a nightmare upon the present.
KARL MARX, The 18th Brumaire of Louis Bonaparte
3 likes
---
Remembrance of the past kills all present energy and deadens all hope for the future.
MAXIM GORKY, "Creatures that Once were Men"
3 likes
---
He who controls the past controls the future. He who controls the present controls the past.
GEORGE ORWELL, Nineteen Eighty-Four
2 likes
---
We go to the past to lay the blame -- since the past can't argue.
GLEN DUNCAN, Love Remains
2 likes
---
The past is a foreign country: they do things differently there.
CASSANDRA CLARE, City of Lost Souls
2 likes
---
There is no present or future, only the past, happening over and over again, now.
EUGENE O'NEILL, A Moon for the Misbegotten
1 likes
---
You can't change the past, it just is.
ALYSON NOËL, Shadowland
1 likes
---
It's no surprise the 'Good Old Days' seem better than the Present ... They've spent more time in Editing!
TOM WILSON, Ziggy, January 24, 2000
1 likes
---
The past is the present, isn't it? It's the future too.
EUGENE O'NEILL, Long Day's Journey Into Night
0 likes
---
The past is a mist.
HAROLD PINTER, Moonlight
0 likes
---
My yesterdays walk with me. They keep step, they are gray faces that peer over my shoulder.
WILLIAM GOLDING, New York Times, October 7, 1983
0 likes
---
It's no use going back to yesterday, because I was a different person then.
LEWIS CARROLL, Alice in Wonderland
0 likes
---
You can never plan the future by the past.
EDMUND BURKE, letter to a Member of the National Assembly in answer to some objections to his book on French affairs, 1791
0 likes
---
past moments old dreams back again or fresh like those that pass or things things always and memories I say them as I hear them murmur them in the mud
SAMUEL BECKETT, How It Is
0 likes
---
Honeymooning, moonlighting, late for the Proms,
Our echoes die in that corridor and now
I come as Hansel came on the moonlit stones
Retracing the path back, lifting the buttons.
SEAMUS HEANEY, The Underground
0 likes
---
All tradition is merely the past.
JIDDU KRISHNAMURTI, Krishnamurti to Himself
0 likes
---
A man cannot free himself from the past more easily than he can from his own body.
ANDRÉ MAUROIS, An Art of Living
0 likes
---