LONDON QUOTES
quotations about London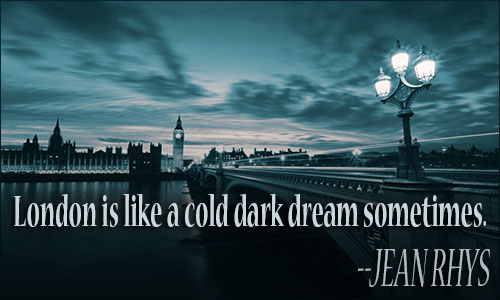 Sir, when a man is tired of London, he is tired of life; for there is in London all that life can afford.
SAMUEL JOHNSON, The Life of Samuel Johnson
4 likes
---
London opens to you like a novel itself.... It is divided into chapters, the chapters into scenes, the scenes into sentences; it opens to you like a series of rooms, door, passsage, door. Mayfair to Piccadilly to Soho to the Strand.
ANNA QUINDLEN, Imagined London
3 likes
---
My Dad says that being a Londoner has nothing to do with where you're born. He says that there are people who get off a jumbo jet at Heathrow, go through immigration waving any kind of passport, hop on the tube and by the time the train's pulled into Piccadilly Circus they've become a Londoner.
BEN AARONOVITCH, Moon Over Soho
3 likes
---
But hail thou giant City of the world,
Thou that dost scorn a canopy of clouds,
And in the dimness of eternal smoke,
For ever rising like an ocean-stream,
Dost mantle thine immensity -- how vast
And wide thy wonderful array of domes,
In dusky masses staring at the skies!
ROBERT MONTGOMERY, "London", Religion and Poetry: Being Selections Spiritual and Moral
3 likes
---
London, thou art the flower of cities all!
Gemme of all joy, jasper of jocunditie.
WILLIAM DUNBAR, London
2 likes
---
In London, love and scandal are considered the best sweeteners of tea.
JOHN OSBORNE, Tom Jones
2 likes
---
A mighty mass of brick, and smoke, and shipping,
Dirty and dusty, but as wide as eye
Could reach, with here and there a sail just skipping
In sight, then lost amidst the forestry
Of masts; a wilderness of steeples peeping
On tiptoe through their sea-coal canopy;
A huge, dun cupola, like a foolscap crown
On a fool's head--and there is London Town.
LORD BYRON, Don Juan
2 likes
---
Maybe it's because I'm a Londoner,
That I love London so;
Maybe it's because I'm a Londoner,
That I think of her wherever I go.
I get a funny feeling inside of me,
Just walking up and down;
Maybe it's because I'm a Londoner,
That I love London town.
HUBERT GREGG, "Maybe it's because I'm a Londoner"
2 likes
---
Go where we may, rest where we will,
Eternal London haunts us still.
THOMAS MOORE, "Rhymes on the Road", The Poetical Works of Thomas Moore
2 likes
---
One thing about London is that when you step out into the night, it swallows you.
SEBASTIAN FAULKS, Engleby
2 likes
---
London goes beyond any boundary or convention. It contains every wish or word ever spoken, every action or gesture ever made, every harsh or noble statement ever expressed. It is illimitable. It is Infinite London.
PETER ACKROYD, London: The Biography
2 likes
---
London is a city that offers all kinds of temptations, and whenever I go for a walk I discover things that I would like to bring back as souvenirs. But my resources are very limited. I cannot buy anything, and I make a point of taking my walks a good distance from these riches.
SOSEKI NATSUME, Spring Miscellany and London Essays
2 likes
---
I journeyed to London, to the timekept City,
Where the River flows, with foreign flotations.
There I was told: we have too many churches,
And too few chop-houses.
T. S. ELIOT, The Rock
1 likes
---
I don't know what London's coming to -- the higher the buildings the lower the morals.
NOEL COWARD, Collected Sketches and Lyrics
1 likes
---
In many ways, London is like a great big pinata, and everyone who lives here is like an excited, blindfolded child with a heart full of hope and a big flailing stick. Aim that stick right and London will split at the seams like a ruptured spleen, showering you with the most extraordinary places to visit, places like you won't find anywhere else in the world. Get it wrong and the chances are you'll lose your footing and end up in a frustrated, eyeless heap.
PAUL CARR, London by London
1 likes
---
The appearance presented by the streets of London an hour before sunrise, on a summer's morning, is most striking even to the few whose unfortunate pursuits of pleasure, or scarcely less unfortunate pursuits of business, cause them to be well acquainted with the scene. There is an air of cold, solitary desolation about the noiseless streets which we are accustomed to see thronged at other times by a busy, eager crowd, and over the quiet, closely-shut buildings, which throughout the day are swarming with life and bustle, that is very impressive.
CHARLES DICKENS, Sketches by Boz
1 likes
---
London is a city of clubs and private houses. You have to be a member.
ALEC WAUGH, The Sugar Islands
1 likes
---
London is a hell, where the Moloch of globalization is worshipped through the nightshifts.
YOSEFA LOSHITZKY, Screening Strangers: Migration and Diaspora in Contemporary European Cinema
1 likes
---
In this city 300 languages are spoken and the people that speak them live side by side in harmony. This city typifies what I believe is the future of the human race and a future where we grow together and we share and we learn from each other.
KEN LIVINGSTON, press conference, July 8, 2005
1 likes
---
London is an endless skirmish between angles and emptiness.
CHINA MIEVILLE, Kraken
0 likes
---