KING QUOTES
quotations about kings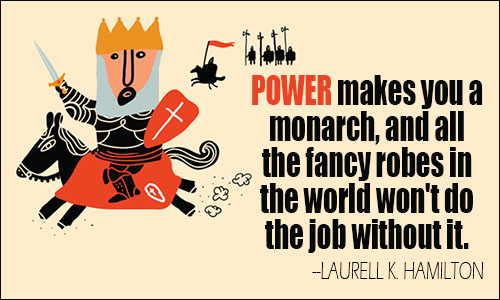 What are kings, when regiment is gone,
But perfect shadows in a sunshine day?
CHRISTOPHER MARLOWE, Edward the Second
3 likes
---
All kings is mostly rapscallions.
MARK TWAIN, The Adventures of Huckleberry Finn
3 likes
---
Power makes you a monarch, and all the fancy robes in the world won't do the job without it.
LAURELL K. HAMILTON, Narcissus in Chains
3 likes
---
Let us sit upon the ground
And tell sad stories of the death of kings:
How some have been depos'd, some slain in war,
Some haunted by the ghosts they have depos'd,
Some poison'd by their wives, some sleeping kill'd;
All murder'd.
WILLIAM SHAKESPEARE, Richard II
3 likes
---
Poor man wanna be rich;
Rich man wanna be king.
And a king ain't satisfied
Till he rules everything.
BRUCE SPRINGSTEEN, "Badlands", Darkness on the Edge of Town
2 likes
---
No kingdom can endure two kings.
AGESILAUS, attributed, Day's Collacon
2 likes
---
If the king is pious, the subjects become so; but if the king is vicious, the subjects become the same. If he be indifferent to both (virtue and vice), then they too bear the same character. In short, as is the king so are his subjects.
CHANAKYA, Vridda-Chanakya
1 likes
---
Kings are not born: they are made by universal hallucination.
GEORGE BERNARD SHAW, Maxims for Revolutionists
1 likes
---
A king may be a tool, a thing of straw; but if he serves to frighten our enemies, and secure our property, it is well enough: a scarecrow is a thing of straw, but it protects the corn.
ALEXANDER POPE, "Thoughts on Various Subjects"
1 likes
---
A man's a man,
But when you see a king, you see the work
Of many thousand men.
GEORGE ELIOT, Spanish Gypsy
1 likes
---
Every man is a king so long as he has someone to look down on.
SINCLAIR LEWIS, It Can't Happen Here
1 likes
---
Fear God. Honour the King.
BIBLE, I Peter 2:17
1 likes
---
It is the King's office to protect and settle the true interpretation of the Law of God within his Dominions.
JAMES I, speech in Star Chamber, 1616
1 likes
---
Never does liberty appear in a more gracious form than under a pious king.
CLAUDIANUS, De Laudibus Stilichonis
1 likes
---
Until philosophers are kings, or the kings and princes of this world have the spirit and power of philosophy, and political greatness and wisdom meet in one, and those commoner natures who pursue either to the exclusion of the other are compelled to stand aside, cities will never have rest from their evils -- no, nor the human race, as I believe -- and then only will this our State have a possibility of life and behold the light of day.
PLATO, The Republic
1 likes
---
The greatest slave in a kingdom is generally the king of it.
FULKE GREVILLE, Maxims
0 likes
---
I was much an enemy to monarchies before I came to Europe. I am ten thousand times more so, since I have seen what they are. There is scarcely an evil known in these countries, which may not be traced to their king, as its source, nor a good, which is not derived from the small fibres of republicanism existing among them.
THOMAS JEFFERSON, letter to General Washington, May 2, 1788
0 likes
---
What the devil's a king but a man, or a queen but a woman?
MAXWELL ANDERSON, Elizabeth the Queen
0 likes
---
All kings are foes of all the men they rule.
HORTENSE FLEXNER, Voices
0 likes
---
This principle is old, but true as fate, Kings may love treason, but the traitor hate.
THOMAS DEKKER, The Honest Whore
0 likes
---