JESUS QUOTES
quotations about Jesus Christ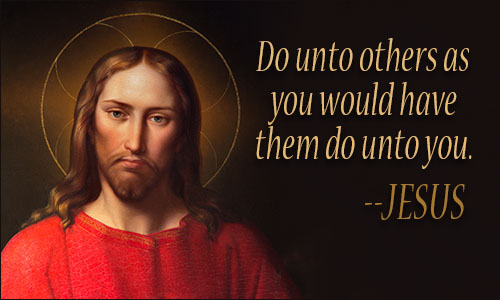 How sweet the name of Jesus sounds
In a believer's ear!
It soothes his sorrows, heals his wounds,
And drives away his fear.
JOHN NEWTON, Olney Hymns
2 likes
---
Take from the Bible the Godship of Christ, and it would be but a heap of dust.
HENRY WARD BEECHER, Proverbs from Plymouth Pulpit
2 likes
---
Jesus never let me down
You know Jesus used to show me the score
Then they put Jesus in show business
Now it's hard to get in the door.
U2, "If God Will Send His Angels"
2 likes
---
When I contrast the loving Jesus, comprehending all things in his ample and tender charity, with those who profess to bear his name, marking their zeal by what they do not love, it seems to me as though men, like the witches of old, had read the Bible backward, and had taken incantations out of it for evil, rather than inspiration for good.
E. H. CHAPIN, Living Words
1 likes
---
Jesus did not turn the disciples into storm troopers, burn down the Temple at Jerusalem, and fix the blame on Pontius Pilate. On the contrary, he made it clear that the business of the philosopher was to make ideas available, and not to impose them on people.
T. H. WHITE, The Once and Future King
1 likes
---
Peace, perfect peace, in this dark world of sin?
The Blood of Jesus whispers peace within.
EDWARD HENRY BICKERSTETH, Peace
0 likes
---
Christianity as a specific doctrine was slain with Jesus, suddenly and utterly. He was hardly cold in his grave, or high in his heaven (as you please), before the apostles dragged the tradition of him down to the level of the thing it has remained ever since.
GEORGE BERNARD SHAW, preface, Androcles and the Lion
0 likes
---
Even yet Christ Jesus has to lie out in waste places very often, because there is no room for him in the inn--no room for him in our hearts, because of our worldliness. There is no room for him even in our politics and religion. There is no room in the inn, and we put him in the manger, and he lies outside our faith, coldly and dimly conceived by us.
E. H. CHAPIN, Living Words
0 likes
---
If Jesus Christ were to come today, people would not even crucify him. They would ask him to dinner, and hear what he has to say, and make fun of it.
THOMAS CARLYLE
0 likes
---
There's not a child so small and weak
But has his little cross to take,
His little work of love and praise
That he may do for Jesus' sake.
CECIL FRANCES ALEXANDER, We are but Little Children Weak
0 likes
---
No one can truly see Christ, and drink in the influence of his character, and not be a Christian at heart.
E. H. CHAPIN, Living Words
0 likes
---
Jesus ... associated with the outcasts; he spoke with them, touched them, ate with them, loved them.
JOHN ORTBERG, Everybody's Normal Till You Get to Know Them
0 likes
---
The religion of Jesus Christ is not ascetic, nor sour, nor gloomy, nor circumscribing. It is full of sweetness in the present and in promise.
HENRY WARD BEECHER, Proverbs from Plymouth Pulpit
0 likes
---
The imitator of Jesus Christ is one who, being interested in him as his propitiation, cannot but choose to follow him as his pattern: for he knows that though it be not the only or principal end why the Son of God was manifested; it is, however, a very considerable part of his errand, in visiting these regions of mortality, to give us a fair transcript, and a living copy of all those graces and duties that are pleasing unto God, and that are commanded in the law.
WILLIAM MCEWEN, "On Imitating Christ", Select Essays Doctrinal & Practical on a Variety of the Most Important and Interesting Subjects in Divinity
0 likes
---
The greatest need in the world is the transformation of human nature. We need a new heart that will not have lust and greed and hate in it. We need a heart filled with love and peace and joy, and that is why Jesus came into the world.
BILLY GRAHAM, Just As I Am
0 likes
---
Where human life needs most sympathy, where usually it is the most barren, there it is that Christ is more likely to be found than anywhere else.
HENRY WARD BEECHER, Proverbs from Plymouth Pulpit
0 likes
---
Like hairs on the head, mortal man is joined to Jesus Christ, the head of all, but they are full of transgressions and sins because of man's delight in the flesh. But the Church regenerates and purifies these from the unclean stench and filth of sin by penitence and confession, just as hair is cleansed from dew and drops, and as dust is shaken out and cleansed from wool.
HILDEGARD OF BINDEN, letter to the Abbot, c. 1166
0 likes
---
The saints were cowards who stood by to see
Christ crucified: they should have flung themselves
Upon the Roman spears, and died in vain--
The grandest death, to die in vain--for love
Greater than sways the forces of the world!
GEORGE ELIOT, The Spanish Gypsy
0 likes
---
I am no friend of present-day Christianity, though its Founder was sublime.
VINCENT VAN GOGH, letter to Theo van Gogh, Oct. 1884
0 likes
---
I am trying here to prevent anyone saying the really foolish thing that people often say about Him: I'm ready to accept Jesus as a great moral teacher, but I don't accept his claim to be God. That is the one thing we must not say. A man who was merely a man and said the sort of things Jesus said would not be a great moral teacher. He would either be a lunatic -- on the level with the man who says he is a poached egg -- or else he would be the Devil of Hell.
C. S. LEWIS, Mere Christianity
0 likes
---