INSANITY QUOTES
quotations about insanity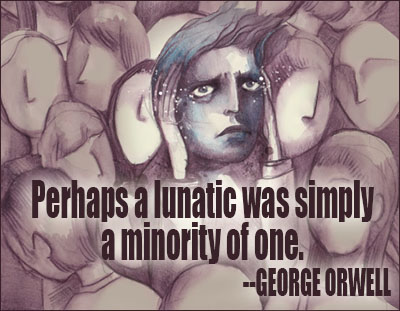 We are all born mad. Some remain so.
SAMUEL BECKETT, Waiting for Godot
3 likes
---
Insanity is relative. It depends on who has who locked in what cage.
RAY BRADBURY, The Meadow
3 likes
---
The statistics on sanity are that one out of every four Americans is suffering from some form of mental illness. Think of your three best friends. If they're okay, then it's you.
RITA MAE BROWN, Starting from Scratch
3 likes
---
I was walking among the fires of Hell, delighted with the enjoyments of Genius; which to Angels look like torment and insanity.
WILLIAM BLAKE, The Marriage of Heaven and Hell
3 likes
---
There is a pleasure sure,
In being mad, which none but madmen know!
JOHN DRYDEN, The Spanish Friar
2 likes
---
Great wits are sure to madness near allied;
And thin partitions do their bonds divide.
JOHN DRYDEN, Absalom and Achitophel
2 likes
---
I became insane, with long intervals of horrible sanity.
EDGAR ALLAN POE, letter to George W. Eveleth, January 4, 1848
2 likes
---
We're all a little wacko sometimes, and if we think we're not, maybe we are more than we know.
MARIAH CAREY, Larry King Live, Dec. 19, 2002
2 likes
---
Perhaps a lunatic was simply a minority of one.
GEORGE ORWELL, Nineteen Eighty-Four
2 likes
---
The sanity of society is a balance of a thousand insanities.
RALPH WALDO EMERSON, "Nominalist and Realist," Essays
2 likes
---
If we lose our sanity ...
We can but howl the lugubrious howl of idiots,
the howl of the utterly lost
howling their nowhereness.
D.H. LAWRENCE, "At Last"
2 likes
---
Men have called me mad; but the question is not yet settled, whether madness is or is not the loftiest intelligence-- whether much that is glorious-- whether all that is profound-- does not spring from disease of thought-- from moods of mind exalted at the expense of the general intellect.
EDGAR ALLAN POE, "Eleonora"
2 likes
---
I don't know what it is with the mad, but they've certainly got force of will. Maybe it's not having the checks and balances the rest of us have, or perhaps I'm kidding myself: maybe their minds are simply clearer, unclouded with the anxieties and morality that the rest of us are swaddled with. Perhaps they have the courage to point their magical thinking at the stars.
MICHAEL MARSHALL, The Upright Man
2 likes
---
I have seen mad people, and I have known some who were quite intelligent, lucid, even clear-sighted in every concern of life, except on one point. They could speak clearly, readily, profoundly on everything; till their thoughts were caught in the breakers of their delusions and went to pieces there, were dispersed and swamped in that furious and terrible sea of fogs and squalls which is called MADNESS.
GUY DE MAUPASSANT, "The Horla"
2 likes
---
If you think you've gone insane ... you're nuts.
STEPHEN KING, The Drawing of the Three
2 likes
---
While in the West, the insane are so many that they are put in an asylum, in China the insane are so unusual that we worship them.
LIN YUTANG, The Importance of Living
2 likes
---
I am quite sure that a good number of "cures" of psychotics consist in the fact that the patient has decided, for one reason or other, once more to play at being sane.
R. D. LAING, The Divided Self
2 likes
---
Much madness is divinest sense
To a discerning eye;
Much sense the starkest madness.
'Tis the majority
In this, as all, prevails.
Assent, and you are sane;
Demur--you're straightway dangerous,
And handled with a chain.
EMILY DICKINSON, "Much madness is divinest sense"
2 likes
---
Insanity is often the logic of an accurate mind over tasked. Good mental machinery ought to break its own wheels and levers, if anything is thrust among them suddenly which tends to stop them or reverse their motion. A weak mind does not accumulate force enough to hurt itself; stupidity often saves a man from going mad.
OLIVER WENDELL HOLMES, The Autocrat at the Breakfast Table
2 likes
---
Insanity is the final surrender.
MARTA CAMINERO-SANTANGELO, The Madwoman Can't Speak
2 likes
---