IMMORTALITY QUOTES
quotations about immortality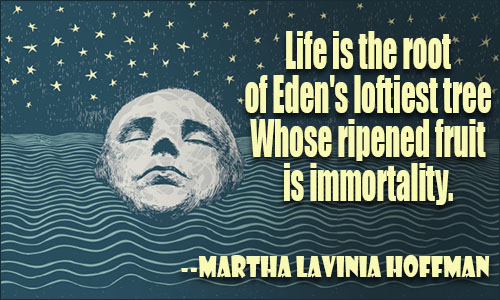 Yet some there be that by due steps aspire
To lay their just hands on that golden key
That opes the palace of Eternity.
JOHN MILTON, Comus
2 likes
---
I would love to believe that when I die I will live again, that some thinking, feeling, remembering part of me will continue. But as much as I want to believe that, and despite the ancient and worldwide cultural traditions that assert an afterlife, I know of nothing to suggest that it is more than wishful thinking.
CARL SAGAN, Billions and Billions
2 likes
---
Life is the root of Eden's loftiest tree
Whose ripened fruit is immortality.
MARTHA LAVINIA HOFFMAN, "God's Gift to Man"
2 likes
---
If my decomposing carcass helps nourish the roots of a juniper tree or the wings of a vulture--that is immortality enough for me. And as much as anyone deserves.
EDWARD ABBEY, Desert Solitaire
2 likes
---
I don't want to achieve immortality through my work; I want to achieve immortality through not dying.
WOODY ALLEN, On Being Funny
2 likes
---
Millions long for immortality who don't know what to do with themselves on a rainy Sunday afternoon.
SUSAN ERTZ, Anger in the Sky
2 likes
---
In this matter of immortality, people's beliefs appear to go along with their wishes. The man who is content with annihilation thinks he will get it; those that want immortality are pretty sure they are immortal; and that is a very comfortable allotment of faiths. The few of us that are left unprovided for are those who do not bother themselves much about the matter, one way or another.
AMBROSE BIERCE, "Immortality", A Cynic Looks at Life
2 likes
---
The key to immortality is first living a life worth remembering.
BRUCE LEE, attributed, The Greatest Quotations of All Time
2 likes
---
Well we all shine on
Like the moon and the stars and the sun
Well we all shine on
Ev'ryone come on
JOHN LENNON, "Instant Karma"
2 likes
---
What you seek you shall never find.
For when the Gods made man,
They kept immortality to themselves.
UNKNOWN, The Epic of Gilgamesh
2 likes
---
Why was I born if it wasn't forever?
EUGENE IONESCO, Exit the King
2 likes
---
You have in you intuitions of immortality, trust them; they are right. Follow them; they will lead you to your Father's house.
REUEN THOMAS, Thoughts for the Thoughtful
1 likes
---
Immortality is a ridiculous illusion, an empty word, a butterfly net chasing the wind.
MILAN KUNDERA, Immortality
1 likes
---
Immortality is the birth-right of mankind.
SUSUNAGA WEERAPERUMA, The Essential Swami Ramdas
1 likes
---
The life extension industry begins with a grain of truth but quickly gets mixed with a tablespoon of bad science, a cup of greed, a pint of exaggeration, and a gallon of human desire for a longer, healthier life--a recipe for false hope, broken promises, and unfulfilled dreams. The quest for immortality has produced countless chefs who have cooked up fantastic stories about aging, and people are consuming their products in massive quantities.
S. JAY OLSHANSKY & BRUCE A. CARNES, The Quest for Immortality
1 likes
---
You're only an immortal until someone manages to kill you. After that, you were just long-lived.
SIMON R. GREEN, The Bride Wore Black Leather
1 likes
---
We must not listen to those who advise us 'being men to think human thoughts, and being mortal to think mortal thoughts' but must put on immortality as much as possible and strain every nerve to live according to that best part of us, which, being small in bulk, yet much more in its power and honour surpasses all else.
ARISTOTLE, The Nicomachean Ethics
1 likes
---
Think then what it is to live on here eternally and yet be human; to age in soul and see our beloved die and pass to lands whither we may not hope to follow; to wait while drop by drop the curse of the long centuries falls upon our imperishable being, like water slow dripping on a diamond that it cannot wear, till they be born anew forgetful of us, and again sink from our helpless arms into the void unknowable.
H. RIDER HAGGARD, Ayesha: The Return of She
1 likes
---
Man by his nature is an unnatural animal. If any creature stands a chance of defeating death, it is man.
TOM ROBBINS, Jitterbug Perfume
1 likes
---
We're starting to reprogram the outdated software of life--the 23,000 little programs we have in our bodies, called genes. We're programming them away from disease and away from aging.
RAY KURZWEIL, "Reinvent Yourself", Playboy, April 19, Playboy, April 19, 2016
1 likes
---