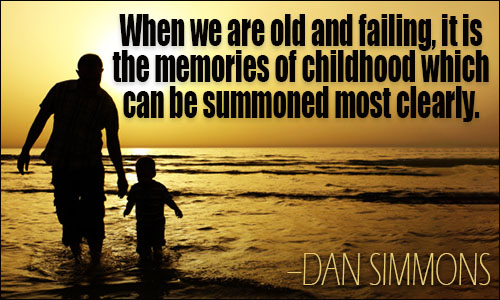 Childhood is the world of miracle or of magic: it is as if creation rose luminously out of the night, all new and fresh and astonishing. Childhood is over the moment things are no longer astonishing. When the world gives you a feeling of "déjà vu," when you are used to existence, you become an adult.
EUGENE IONESCO, Present Past / Past Present
Childhood is the kingdom where nobody dies.
EDNA ST. VINCENT MILLAY, Wine from these Grapes
There is always one moment in childhood when the door opens and lets the future in.
GRAHAM GREENE, The Power and the Glory
Childhood, n. The period of human life intermediate between the idiocy of infancy and the folly of youth -- two removes from the sin of manhood and three from the remorse of age.
AMBROSE BIERCE, The Devil's Dictionary
Childhood has no necessary connection with age.
AUSTIN O'MALLEY, Keystones of Thought
I cannot think of any need in childhood as strong as the need for a father's protection.
SIGMUND FREUD, Civilization and Its Discontents
The happy childhood is hardly worth your while.
FRANK MCCOURT, Angela's Ashes
You can go through life and make new friends every year--every month practically--but there was never any substitute for those friendships of childhood that survive into adult years. Those are the ones in which we are bound to one another with hoops of steel.
ALEXANDER MCCALL SMITH, The No. 1 Ladies' Detective Agency
Everything is ceremony in the wild garden of childhood.
PABLO NERUDA, Winter Garden
I cherish my childish loves--the memory of that warm little nest where my affections were fledged.
GEORGE ELIOT, Theophrastus Such
If you carry your childhood with you, you never become older.
ABRAHAM SUTZKEVER, Family Circle Magazine, Aug. 9, 2005
O happy childhood! blessed youth!

But once we know thy potent power;

But once we live all careless free;

No cross to mar our love-lit bower.
ARDELIA COTTON BARTON, "Heart-Yearnings"
Childhood is a disease -- a sickness that you grow out of.
WILLIAM GOLDING, London Guardian, Jun. 22, 1990
All who remember their childhood remember the strange vague sense, when some new experience came, that everything else was going to be changed, and that there would be no lapse into the old monotony.
Childhood is supposed to be happy, and if you can't remember yours with any happiness, what hope have you later, when life starts handing you fresh grief?
AMITY GAIGE, Good Housekeeping, Feb. 2009
The brightest light, the light of Italy, the purest sky of Scandinavia in the month of June is only a half-light when one compares it to the light of childhood. Even the nights were blue.
EUGENE IONESCO, Present Past / Past Present
The rustling of a wild-bird's wings,

A star, a flower, a gush of rain,

The sight of sad or joyous things,

Oft makes me seem a child again:

With voiceless eloquence they come,

Bright phantoms of my childhood's home.
ROSA VERTNER JEFFREY, "My Childhood's Home"
And where, on earth, dwell hope and truth?

In childhood's uncorrupted heart;

Alas! too soon to guileless youth

The world doth its dark code impart!
ANNE S. BUSHBY, "The Morn of Life"
In the man whose childhood has known caresses there is always a fibre of memory that can be touched to gentle issues.
GEORGE ELIOT, Janet's Repentance
A rose gets its color and fragrance from the root, and man his virtue from his childhood.
AUSTIN O'MALLEY, Keystones of Thought
[Growing up] is a terribly hard thing to do. It is much easier to skip it and go from one childhood to another.
F. SCOTT FITZGERALD, The Crack-Up
Childhood is that wonderful time of life when all you need to do to lose weight is take a bath.
GRENVILLE KLEISER, Dictionary of Proverbs
So much of our early gladness vanishes utterly from our memory: we can never recall the joy with which we laid our heads on our mother's bosom or rode on our father's back in childhood; doubtless that joy is wrought up into our nature, as the sunlight of long-past mornings is wrought up in the soft mellowness of the apricot; but it is gone forever from our imagination, and we can only believe in the joy of childhood.
Only to two or three persons in all the world are the reminiscences of a man's early youth interesting: to the parent who nursed him; to the fond wife or child mayhap afterwards who loves him; to himself always and supremely--whatever may be his actual prosperity or ill fortune, his present age, illness, difficulties, renown, or disappointments--the dawn of his life still shines brightly for him, the early griefs and delights and attachments remain with him ever faithful and dear.
WILLIAM MAKEPEACE THACKERAY, Newcomes
They say that childhood forms us, that those early influences are the key to everything. Is the peace of the soul so easily won? Simply the inevitable result of a happy childhood. What makes childhood happy? Parental harmony? Good health? Security? Might not a happy childhood be the worst possible preparation for life? Like leading a lamb to the slaughter.
The young remember most deeply.... When we are old and failing, it is the memories of childhood which can be summoned most clearly.
DAN SIMMONS, The Rise of Endymion
To the man grown the long crowded mile of his boyhood becomes less than the throw of a stone.
WILLIAM FAULKNER, Absalom, Absalom!
Childhood is like a mirror, which reflects in afterlife the images first presented to it. The first thing continues forever with the child. The first joy, the first sorrow, the first success, the first failure, the first achievement, the first misadventure, paint the foreground of his life.
There were three terrible ages of childhood -- zero to 10, 10 to 20, and 20 to 30.
CLEVELAND AMORY, The Cat and the Curmudgeon
Childhoods never last. But everyone deserves one.
WENDY DALE, Avoiding Prison and Other Noble Vacation Goals