ADVENTURE QUOTES
quotations about adventure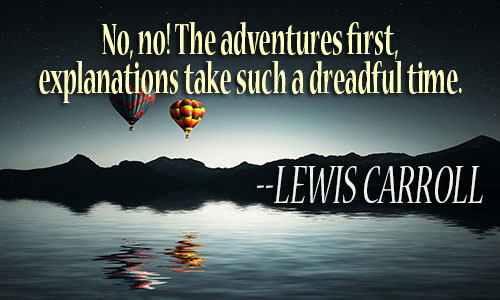 If adventures will not befall a young lady in her own village, she must seek them abroad.
JANE AUSTEN, Northanger Abbey
4 likes
---
No, no! The adventures first, explanations take such a dreadful time.
LEWIS CARROLL, Alice in Wonderland
4 likes
---
Let us step out into the night and pursue that flighty temptress, adventure.
J. K. ROWLING, Harry Potter and the Half-Blood Prince
3 likes
---
In these parts ... we are plain quiet folk and have no use for adventures. Nasty disturbing uncomfortable things! Make you late for dinner!
J. R. R. TOLKIEN, The Hobbit
3 likes
---
Adventure ... is what might otherwise be called hardship if it were attempted in a different spirit.
LAURA MILLER, The Magician's Book
2 likes
---
We have not even to risk the adventure alone, for the heroes of all time have gone before us -- the labyrinth is thoroughly known. We have only to follow the thread of the hero path, and where we had thought to find an abomination, we shall find a god; where we had thought to slay another, we shall slay ourselves; where we had thought to travel outward, we shall come to the center of our own existence. And where we had thought to be alone, we shall be with all the world.
JOSEPH CAMPBELL, The Hero with a Thousand Faces
2 likes
---
To die will be an awfully big adventure.
J.M. BARRIE, Peter Pan
1 likes
---
An adventure is only an inconvenience rightly considered. An inconvenience is only an adventure wrongly considered.
G. K. CHESTERTON, All Things Considered
1 likes
---
You can't prepare for everything life's going to throw at you.... And you can't avoid danger. It's there. The world is a dangerous place, and if you sit around wringing your hands about it, you'll miss out on all the adventure.
JEANNETTE WALLS, Half Broke Horses
1 likes
---
Being soaked alone is cold. Being soaked with your best friend is an adventure.
EMILY WING SMITH, Back When You Were Easier to Love
1 likes
---
Adventure, yeah. I guess that's what you call it when everybody comes back alive.
MERCEDES LACKEY, Spirits White as Lightning
1 likes
---
Pooh knew that an Adventure was about to happen, and he brushed the honey off his nose with the back of his paw, and spruced himself up as well as he could, so as to look Ready for Anything.
A. A. MILNE, Winnie-the-Pooh
1 likes
---
Adventure is when you toss your life on the scales of chance and wait for the pointer to stop.
MURRAY LEINSTER, "First Contact"
1 likes
---
Live, travel, adventure, bless, and don't be sorry.
JACK KEROUAC, Desolation Angels
1 likes
---
Adventure is largely a state of mind ... simply by saying yes to everything you can often turn an ordinary holiday into an escapade.
DIXE WILLS, "How to have a holiday adventure in the UK", The Guardian, January 14, 2016
1 likes
---
I have been around this world long enough to have learned that often times the way to have an adventure is to commit yourself to it fully, and then somehow will it into existence. If you wait until all your ducks are in a row before committing to an adventure you will never have one.
ROBERT OSTERTAG, "Circling Sardinia", Canoe & Kayak, October 23, 2015
1 likes
---
Very simply, we are most alive, and at our best, when we push the boundaries of what is possible in the pursuit of something we love. This is the power of adventure.
FRANK NILES, "The Secret to a Joyful Life", Huffington Post, June 22, 2015
1 likes
---
An adventure needs to have moments of difficulty and uncertainty. Strangely, a dollop of misery, worry and wishing I was back home usually goes a long way to cementing the good memories in my mind, long after the bad ones have faded.
ALASTAIR HUMPHREYS, "How to have a holiday adventure in the UK", The Guardian, January 14, 2016
1 likes
---
Outdoor adventure is a state of mind. No matter your age, you can get outside.
HANNAH ROTHLIN, "Hannah Rothlin on August is American Adventures Month", The Spectrum, August 29, 2016
1 likes
---
Having a perilous adventure is always better than comatose safety. Always, always, always, always, always.
JAMES ALAN GARDNER, Ascending
0 likes
---